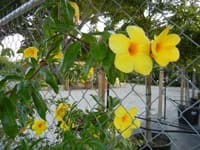 We are often asked about plants which may be poisonous to pets, livestock or horses. There are several listings of toxic plants available online but they are lengthy and encompass many plants that aren't grown in SW Florida.
This is a list of plants that are considered poisonous to dogs and cats to some degree that are found in our area. We have compiled this list from the www.petpoisonhelpline.com and the ASCPA websites. This is NOT a comprehensive list and should be used only as an initial and cursory source of information. If you believe that your pet has ingested a poisonous plant, call your veterinarian or your local emergency vet immediately. Bold italicized denote a higher degree of toxicity.
The degree of clinical signs of ingesting poison are often dependent on the species, age, breed, or size of your pet; and how much of the poisonous plant ingested.
Agapantus (Lily of the Nile)
Allamanda
Alocasia (various)
Aloe (various)
Amaryllis
Angels's trumpet/Devil's trumpet
Asparagus fern (NOT the Foxtail Fern)
Avocado
Azalea
Bird of Paradise
Calla Lily
Caladium
Castor Bean
Chinaberry tree
Clematis
Chinese evergreen (Aglaonema)
Chinese lantern
Croton
Dieffenbachia (various)
Dracaena (various)
Duranta (Golden Dew Drop berries)
Delphinium
Elderberry (fruit is nontoxic)
Grapes
Fishtail Palm
Flowering tobacco (Nicotiana)
Heather
Heavenly Bamboo
Heliotrope
Hyacinth
Hydrangea (all types & all parts)
Iris
Podocarpus seeds
Jatropha
Jessamine
Kalanchoe
Lantana
Laurel, Cherry
Loquat seeds
Lucky Nut
Macadamia nuts
Mistletoe
Morning Glory seeds
Nectarine seeds
Night Blooming jasmine
Nightshades (various)
Oak trees (acorns)
Oleander
Pampas grass
Peace Lily
Peach seeds
Periwinkle (Vinca)
Philodendron (various)
Pittosporum
Plum seeds
Poinsettia
Potato plants
Red Sage
Rhododendron
Sago palm
Schefflera
Split-leaf Philodendrum
St. Johns wort
Tobacco plant
Tomato plant
Yesterday, Today and Tomorrow (Ytt)
Yucca